If you have traveled on official government duty, you have probably receive per diem. Per diem is the daily allotted pay the DoD gives members while they are traveling on official duty assignments. The funds are to be used to cover your lodging, food, and incidental expenses, such as laundry and basic needs. When most people refer to per diem, they break it out to the two primary expenses, their Lodging, and their Meals and Incidental Expenses (M&IE).
All the rules can be found under the Joint Federal Travel Regulations, which is linked at the bottom of this article.
How are Per Diem Rates Determined?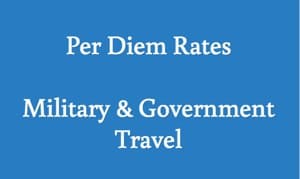 Per Diem rates are given for specific locations. The rates range from $129 per day in the Continental US (CONUS), and up to $823 per day in Out of CONUS (or OCONUS) locations. Again, the total rate is split between your lodging and your Meals and Incidental Expenses.
Rates for these locations are determined by three organizations: The General Services Administration (GSA), The Department of State (DoS), and The Defense Travel Management Office (DTMO).
Proportional Meal Rates
You may find that you are eligible to eat government provided meals on some of your trips. This will result in a Proportional Meal Rate. The proportional meal rate for your location is based on the locality meal rate and the GOVAT meal rate (GMR).
The Proportional Meal Rate is determined by:
adding your locality meal rate with the GMR of $11.85, dividing by 2, then rounding up to the nearest dollar. Then you add the Incidental Expense rate.
Ex: The CONUS Meal & Incidental Rate is $46 ($41 for meals, and $5 incidental rate). Add $41 to $11.85, gives us $52.85. Divide by 2, that gives us $26.43. Round that down to $27. Then add the $5 incidental expense, for a total of $32.
The Proportional Meal Rate is given when:
You are lodging in government facilities and the government provides at least one meal (but not all 3 meals).
You are lodging in government facilities with government meals on your orders, but the mess wasn't available for all meals.
You receive one or two meals that are paid for by the Government (for example, as part of a conference registration fee).
You aren't entitled to per diem but must purchase a meal (your actual expenses are compared to the Proportional Meal Rate and you will be reimbursed the lesser of the two).
Current Per Diem Rates
Looking for per diem rates by location? The Defense Travel Management Office has a list of all the current Per Diem rates. Here are the relevant links:
Per Diem Calculator (use this to determine how much Per Diem you might receive for TDY)
CONUS COLA Calculator (use this to determine if there is a Cost of Living Adjustment in your Permanent Duty Assignment).
Updates to Per Diem Policy
The Department of Defense recently updated the per diem rates for military members on Temporary Duty Assignments (TDY).
Here are some updates you need to be aware of:
Long-term per diem rates are lower than short term rates. Travelers will receive 100% of the locality rate per diem for travel under 30 days. Long-term travel over 30 days, but less than 180 days will result in an authorized per diem rate of 75% of the locality per diem rate. TDY travel in excess of 180 days results in a rate of 55% of the locality per diem rate.
Establishes a flat rate per diem allowance for long term TDY that would authorize a traveler 75% of the locality per diem rate for TDY periods over 30 days but not exceeding 180 days. This item also establishes a flat rate per diem allowance for TDY in excess of 180 days to be set at 55% of the locality per diem rate.
ATM fees, baggage expenses, transportation tips, & laundry/dry cleaning no longer reimbursable. These items were previously allowed expenses on your travel voucher and would be reimbursed. These are now included under incidental expenses and cannot be reimbursed on your travel voucher.
Other items of note:
When staying in government lodging, travelers will be reimbursed for the actual lodging costs.
Travelers may choose to stay in furnished apartments or similar lodging for long-term stays if the rates are comparable or less than commercial hotel rates.
Here is the updated Joint Travel Regulation (updated 20141101).