Military benefits are incredibly valuable. They are well deserved and hard earned. But veterans must prove military service before they are eligible for the various benefits programs. These requirements are in place to protect those who have earned these benefits, and prevent others from taking these limited resources from those who have earned them.
The purpose of this article is to show veterans, staff members and volunteers at veterans organizations, and others how to verify a veteran's military service to help them obtain the benefits they have earned.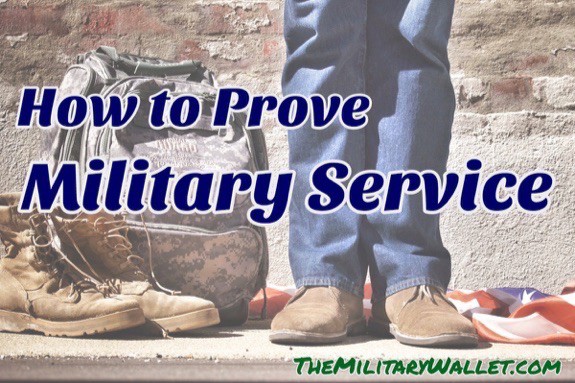 How to Tell if Someone Served in the Military
I recently received the following question from a reader who works as a volunteer at a Veterans organization:
I work as a volunteer for homeless veterans. This is a very nice apartment facility located near the VA. I have been talking to veterans about a few particular people that were allowed to live in the community. My understanding is, to qualify for housing you must have a DD Form 214 and honorably discharged. Some felonies are waived. However, this individual has only a letter from a comrade. The resident discovered that the person had enlisted with false information, and didn't disclose a felony record. The service dismissed this member only 2 days into basic training.
The member living among veterans explains their inability to apply for the DD 214 because their service was as a Reservist. I haven't heard of this. My suspicion is the veterans living in this facility have discovered a fraudulent military person. I have further concerns about this. The resident has appeared on television documentaries and taken several donations from the public, all under the umbrella of homeless veterans. Moreover, he is living in a federally subsidized house.
In summary, my questions are:
How can you find out if someone is lying about their military service?
What type of record would a Reservist have?
Why wouldn't the veteran be able to obtain their service DD Form 214 or any other record?
There Are Many Ways to Prove Military Service
The situation above is tricky, and sometimes there are no clear cut answers. But I'll do my best to answer this reader's questions and give a few more ways veterans and others can verify military service. What follows are different official and unofficial ways to prove military service. Each government or veterans organization should have a list of acceptable forms or proof of service requirements.
1. How to Prove Military Service – Discharge Paperwork
First off, it's tough to know if someone is lying. And our goal here isn't to prove someone is lying. Our goal is to help veterans prove their service. Every active duty member is issued a DD Form 214 when they separate from the military (a DD Form 215 is a corrected version of a DD Form 214, and should also be accepted as a valid record of service). These forms are supposed to be given to the veteran when they separate, but I've heard from multiple veterans that they were not issued a DD Form 214 on the day they separated, and later received it in the mail. So it's possible these forms were mailed out shortly after the member separated.
It's common for these forms to get lost or damaged, and this is not something that many homeless veterans would have on their person at all times. Additionally, there are times when a service member may not have a DD Form 214, which we will cover later in this article.
These instructions show how to get a replacement DD Form 214.
It may be possible for the veteran to get help obtaining this document from someone at your organization, at the VA, or another veterans organization.
2. Type of Service Records for Reservists
Many Reservists are issued a DD Form 256, when they separate from the military. Veterans who served in the National Guard or Air National Guard may have a form NGB Form 22, or NGB Form 22-a (corrected version). Former National Guard members may also have other forms of proof of service, such as a discharge paperwork from their state. But the NGB Form 22 is the generally accepted form for proof of service.
3. How to Get Copies of Military Records
The National Archives maintains most, but not all, military records. These military records should be available through a military records request. This is the first place to look for military service records, unless the individual serve prior to WWI, or was recently separated from the military.
Most military records requests are limited to the member or next of kin. However, members of the general public can often request proof of military service through the Freedom of Information Act. This will give the requester access to limited military service records, but not access to the entire information file. That said, the records available to the general public will include name, rank, branch of service, dates of service, and some more info – certainly enough to prove military service.
Please note: not all military records are maintained in the National Archives. Very old and very recent records may not be in the Archives. Additionally, hundreds of thousands of records were destroyed in the Fire of 1973 (more on both of these situations later in the article).
Records That Won't Be Found in the National Archives
Not all military service records are found in the National Archives.
Extremely Old and Very Recent Records May Not Be in the Archives
Service records from those who served prior to WWI may not be found in the National Archives. Those records are on file at the National Archives and Records Administration, Old Military and Civil Records Branch (NWCTB), Washington, DC. This information is helpful for anyone doing research, genealogical studies, tracing family roots, or other needs.
Records for service members who recently separated or retired may not yet have been transferred to the National Archives. These records are usually maintained from 5-10 years at the personnel or human resources division for each respective branch of service before being sent for permanent storage at the National Archives:
Air Force – Air Force Personnel Center
Army – Human Resources Command
Marines and Navy – BUPERS
National Guard Member (if never activated) – State Adjutant General Office where the member served
Here is a list of records that may not be held at the National Archives, and a list of places where other records are maintained.
Military Records Destroyed in the National Archives Fire of 1973
There was a major fire at the Archives in 1973 that permanently destroyed military records for hundreds of thousands of veterans. Most of the affected records were limited to Army and Air Force records.
Affected Army Records:
Personnel discharged November 1, 1912 to January 1, 1960
Estimated loss: 80% of records
Affected Air Force Records:
Personnel discharged September 25, 1947 to January 1, 1964
(with names alphabetically after Hubbard, James E.)
Estimated loss: 75% of records
Many of the service records were also severely damaged. So it's possible the veterans' records may no longer exist in their entirety. Everything after those dates should still exist in the National Archives, unless they are still being maintained by the respective branch of service. Here is more information about the National Archives Fire:
How to Prove Military Service if Your Records Were Destroyed in the National Archives Fire of 1973
It can be very difficult to prove military service if your records were destroyed in the National Archives Fire of 1973. But it may not be impossible. Some people may be able to prove their military service from payroll or tax records, copies of old military service documents, orders, copies of military awards or decorations, photos in uniform, written statements from those they served with, newspaper clippings, old military records from their previous base, unit, or other organization, old state records if they served in the National Guard, or through other means.
Not all of these methods would apply to everyone, and not all of them are easy or possible to obtain. I don't have further tips for proving your military service if your records were damaged or destroyed. I suggest contacting the National Archives to see if they have other methods or ideas that may prove fruitful to your cause.
Additional Ways to Prove Military Service
The DD Form 214, 215, 256, NGB Form 22 and similar forms are official proof of service documents. These are the forms usually required for applying for veterans benefits through the Department of Veterans Affairs and other official benefits. For example, you cannot apply for the GI Bill, VA Loan Certificate of Eligibility, VA health care, veterans burial benefits, or other major military veterans benefits without one of these forms.
But veterans shouldn't have to whip out one of these official forms anytime they are asked to prove military service. There are other ways veterans can prove they served, and in many cases, a less formal method should be sufficient.
Here are a few common methods veterans can use to verify military service:
All of the above require official forms in order to be issued the ID card, with the exception of the Veterans Group Membership cards. Some of these organizations do require official proof of service, such as a DD Form 214 or similar form. But not all of these groups do.
Whether or not an agency should accept one of the above forms of ID should be made on a case by case situation. For example, official VA benefits require a DD Form 214 or equivalent. There usually aren't exceptions to this rule. This also applies to many official state or federal veterans benefits. But the above methods should be sufficient to prove military service for less formal occasions, such as a military discount, club membership, etc.
Protecting Information on In Military Records
We've covered a lot of ground here. Now it's important to protect our veterans. Military records often include sensitive personal information. For example, the DD Form 214 lists the veteran's Date of Birth, SSN, and other information that can be used for identity theft or other reasons. Veterans and others should take great care safeguarding this information. This is especially important for organizations that keep copies of veterans records for administrative needs.
Please make sure these forms are maintained under lock and key, encrypting it when stored digitally, or redacting some information not necessary for your specific organizational needs.
About Post Author