Deciding to separate from the military is a big decision. It's not something you should take lightly. Not only is the military transition a major decision, but it requires a lot of preparation. To that point, it's a good idea to start the separation process at least 6-12 months in advance of your separation date. This applies to whether you are separating at the end of your contract or if you are retiring from the military.
We have written multiple articles about the military transition process. However, most focus on a specific aspect of the process.
This Military Transition Guide is a massive article that puts everything together in one place so you can bookmark it, share it with your troops, or reference it as needed. At almost 5,000 words, it's about the length of a chapter in a book. More importantly, it contains multiple links to additional resources on our site and on other sites.
It's safe to say that following this guide and the resources it holds will address some of your concerns about your transition and help you be better prepared for your own military transition.
Table of Contents
Planning for Your Separation Starts the Day You Join the Military
I didn't have any expectations for how long I would serve when I enlisted in the military. I had broad hopes and expectations for what I could accomplish, but I had no idea if I would serve one enlistment or make a career out of it. I imagine many people are in a similar situation when they join the military.
That said, I learned a lot from my mentors, and I started planning for my exit almost as soon as I joined. I don't mean to say that I started counting down the days as soon as I enlisted. Rather, I crafted my experience to serve my personal and professional goals. In short, I earned my degree by taking classes while on active duty. I also took advantage of career opportunities while I was enlisted, including training and promotion opportunities. Finally, I traveled, had numerous great experiences, and I saved a lot of money.
When my contract expired, I had several great options – I had a promotion waiting for me in the military, I had my degree which I could use to explore commissioning opportunities, or I could use my degree and try my hand in the civilian sector.
At that point in my life, I was ready for a change. So I opted for a clean break from the military. I separated, moved to another state, and found a job in the civilian sector.
I chose not to pursue service in the Guard or Reserves when I left active duty. However, that is an option we will explore later in this guide.
That said, I later joined the Air National Guard after an 8.5-year break in service. This is not the way most people transition into the Guard or Reserves. But it can be an option, and it has worked out well for me.
There is no right or wrong time to separate from the military – only what is right for your specific situation.
How to Plan Your Exit, Even When You Don't Know When it Will Be: I recorded this episode of our podcast with military veteran Mark Deal. In it, we discussed how we crafted our military experiences from day one to give us career options both in and out of the military. This is a great resource for those who are still young in their career or aren't sure where the next fork in the road will take them.
Let's take a deeper look into military service and when it might be a good time for you to separate from the military and try your hand at different career opportunities.
Deciding to Separate from the Military – When is the Right Time?
Sometimes you just know. That's how it was for both my wife and me. I have numerous friends I served with who served one tour, and while they had a great experience, they knew the military wasn't a long-term career option for them.
On the other side, I know many military retirees, my brother included, who served long and distinguished careers.
There is no right or wrong answer, only what is right for you.
I'll quote my friend and mentor, Doug Nordman, author of The Military Guide to Financial Independence and Retirement and founder of The Military Guide, who often says,
"Stay on active duty as long as you feel challenged and fulfilled."
Doug retired after 20 years on active duty and has been fortunate enough to build a lifestyle (in Hawaii no less!) where he never has to work again. However, if he had to do it again, Doug would have left active duty and all the stress that came with it for the opportunity of serving in the Reserves and the better quality of life that it would have offered.
Doug writes,
"I should've left active duty for the Reserves at the 12-year point (when we started a family and my career priorities changed). The money would've worked out about the same, and we would've reached financial independence within a year or two of when we did, but our quality of life would've been way better."
If you're on the fence about staying in or getting out, I recommend reading Doug's essay, Don't Gut It Out To 20: Leave Active Duty For The Reserves Or National Guard.
He shares the why and how of leaving active duty and still earning valuable Reserve military retirement benefits.
Deciding to stay or go is a very personal decision, and should be taken seriously. Include your family, close friends, and mentors. But ultimately, make the decision yourself.
How to Prepare for Separation
As I mentioned above, I recommend planning your military career around separating. This can include taking challenging assignments to progress your career, taking courses that will advance your military career, and obtaining degrees, training, or earning certifications that will apply to your prospective civilian career.
When to Start Preparing for Your Separation
It's a good idea to start preparing for your separation at least 6-12 months before your separation date. You can start the process much earlier, but there won't be as much action you can take at that point. Most of your preparation before a year out will be mental preparation. However, this can be one of your most valuable steps.
At the minimum, you want to start thinking about what you will do when you leave the military.
Is there a career opportunity you wish to pursue?
Do you have the requisite skills and training?
Will you retire and decide not to work again?
The more you think about your next steps, the easier it will be.
What About an Involuntary Military Separation?
Unfortunately, you can't always predict when you will have to leave military service. I have known several people who were unexpectedly separated from the military for various reasons, including medical, force shaping, and even misconduct.
The following link has an article and podcast with an in-depth guide covering many of the struggles facing servicemembers who are involuntarily separated from the military. It is a highly recommended resource for those who need additional information about what to expect and how to cope with this transition.
Take the Transition Assistance Program or GPS Course
The military requires members to take the Transition GPS class prior to separating or retiring. The Transition GPS was formerly called the TAP class, or Transition Assistance Program. This short, 3-day course gives you an overview of what to expect during your transition and gives you a few condensed courses on resume writing, interviewing, post-military salary negotiation, using LinkedIn, and other necessary skills. This course is useful, but consider it a primer. You will likely need much more in-depth work to prepare for the transition.
If possible, take this course far in advance of your separation date so you can work through the different modules on your own. The more time you put into the preparation, the better.
You can often bring your spouse with you. Do this, if possible. Your spouse will also learn a lot, and having a second set of eyes and ears can help ensure you catch the most important parts of the course.
Some military members may also be able to take the course twice. This wouldn't hurt if you are able to swing this.
Note: The DoD and each service branch have their own Transition Assistance Program:
Take Advantage of All Benefits Prior to Separating
Before I left active duty, I took advantage of everything I could. As I mentioned, I tested out of many college classes, and I used the Tuition Assistance program to earn both my associate's and bachelor's degrees.
I also took advantage of the military health care system to have surgery on both of my knees; I had a Grade 3 tear in each meniscus, a byproduct of my military service. Those knee surgeries saved me thousands of dollars in medical costs. Just as important, I was able to get those issues documented in my military medical records.
Make sure you do a thorough review of any benefits available to you and take advantage of those benefits if possible. You can visit your personnel or Human Resources office for an overview of the benefits that will be available to you. This will be helpful for you and your family as you transition.
Get Personal Copies of Everything
I strongly recommend you obtain copies of all major military records. This is especially important for military medical records, training records, transcripts, and anything else that verifies your military service and training. This includes your form DD 2586 Verification of Military Experiences and Training, or VMET.
Your military medical records are essential for filing a VA disability claim or establishing a nexus for any medical issues that occurred or were made worse during your military service. While the military will forward your records to their central offices, you want to ensure you have personal copies. This prevents the loss of important information and gives you access to your records during your transition.
Financial Considerations of Your Transition
Every transition is different. For example, I was unemployed for 6 months before I found a job after leaving the military. I collected unemployment benefits during my transition, which helped my finances. I had also planned for the possibility of being without work, so I saved a lot of money before leaving the military. I could make it through with my combined savings and unemployment benefits income.
Some members are retiring. If that describes your situation, then expect there to be a one-month gap in your pay. Additionally, your retirement pay will only be based on your base pay, not the other allowances you were likely used to collecting, including BAH, BAS, flight pay, etc.
I recommend saving at least 2-3 months of living expenses before separating from the military, just in case you have unexpected expenses or you are unable to find a job relatively quickly. If you can swing it, save even more.
Pay Attention to Your Insurance
Military members have access to great insurance programs while serving on active duty. This includes TRICARE Prime or Standard for healthcare and Servicemembers Group Life Insurance (SGLI) for life insurance.
You don't want either of these policies to lapse after you leave the military. So look into alternatives if you won't have access to them after you leave the military. If possible, it is a good idea to start your policy shortly before your transition date or to schedule it to start on the date of your transition.
Health Care Options After Leaving the Military
If you are retiring, you will still have access to TRICARE Prime or Standard. Just make sure you do the paperwork so you have a seamless transition.
If you aren't retiring, you will need to look into other healthcare options. The military offers two transitional healthcare plans, including:
Some veterans may also be eligible for healthcare through the Department of Veterans Affairs. I recommend enrolling in the VA healthcare system as soon as you are eligible to avoid coverage gaps.
If you are going to the Guard or Reserves, I encourage you to look into TRICARE Reserve Select, which is an affordable healthcare option.
This article covers other healthcare options after leaving the military. Make sure you and your family are covered before you separate!
Life Insurance Options After Leaving the Military
Active duty members have access to SGLI, which is a very affordable group life insurance plan. Unfortunately, you can't take it with you when you leave the military.
You can convert your plan to the Veterans Group Life Insurance Plan (VGLI). However, VGLI rates are based on your age and become very expensive as you age.
You may wish to look into Term Life Insurance policies, which generally offer the best cost/benefit ratio.
Be sure to look into life insurance policies for your spouse if he or she was also covered under SGLI. You will want to ensure you have coverage for yourself and your family before separating to prevent gaps in coverage.
This article covers more about different life insurance options after leaving the military.
What to Expect During Your Transition
Most people look at a separation checklist and methodically run through the list, taking care of every little item before signing some paperwork and going on your way. That pretty much sums up my experience. But if I had the chance to do it over again, I would have spent more time thinking about the actual transition itself.
To be honest, the decision for me to separate from the military came easily. I was burned out from 5 deployments, a one-year special duty assignment, and numerous TDYs and training sessions over my 6.5-year enlistment. I was ready for a break.
But I wasn't quite ready for life after the military. I went from going 100 mph down to being unemployed for 6 months while I was looking for a new job. In short, I struggled.
Your situation may be different. You may already have firm plans on what you are going to do after the military. If so, great! If not, I encourage you to spend some time thinking about what your transition will look like, both during, and after the fact.
As for the out-processing checklist, expect to try and fit everything in between your normal military duties. Hopefully, you will have a few days you can dedicate to the process. That makes it much easier. If not, try to make appointments well in advance so you can knock things out as you go. Leaving things to the last minute makes the process more stressful than it needs to be.
Should You Join the Guard or Reserves?
This is a big topic – big enough that it deserves its own article (or three), a podcast episode or two, and maybe even a short book. In short, there is no one-size-fits-all answer here.
As I mentioned earlier, I was completely burned out when I left active duty. I needed a clean break from the military and I'm glad I had that break. It allowed me to reset my life away from the military, start a family, start a civilian career, and ultimately start a business. I wouldn't change my decision.
That said, several years after leaving active duty service, I realized I still had a yearning to serve. I applied to join the Air National Guard and was able to join after obtaining medical waivers (for my aforementioned knee surgeries). I was out of the military for over 8 years before joining again. This is not the most common way to join the Reserve Component, but large gaps in service are not that uncommon either.
If you aren't sure if you want to continue your active duty service, I encourage you to at least look into the Guard or Reserves. And whether or not you join the Reserve Component after leaving active duty, I would encourage you to at least keep the door open. Joining the Reserve Component, even after several years out of the military, can be a great career opportunity.
And of course, there are also benefits to continuing your service.
This article & podcast provides an in-depth look at joining the Guard or Reserves.
Benefits of the Guard & Reserves
Serving in the Guard or Reserves gives you continued access to a variety of benefits, including Drill Pay each month you drill, continued military service which applies toward military retirement, access to military training and education programs, and access to inexpensive health care for you and your family through the TRICARE Reserve Select program.
There are also intangible benefits to serving in the Guard or Reserves. One of the biggest is the continued ability to be a part of something larger than you. This was one of the drawing factors for me. Being part of the military mission is huge. It helps center me in ways my civilian career never did.
The professional network you grow in the Reserve Component can also be a good way to grow your civilian career and find new opportunities in your local area. You will undoubtedly make great friends and have some unique experiences. So far, the intangible benefits of serving in the Air National Guard have been a rewarding experience.
Here is more information on serving in the Guard and Reserves:
Downsides to Serving in the Guard or Reserves
Of course, I'm not naïve enough to think that everyone should transition to the Reserve Component after leaving active duty. Continued military service isn't for everyone. And, like me, you might just need a clean break from the military.
There is a time commitment as well. The standard mantra for Guard and Reserve service is "one weekend a month, two weeks a year." But it can really be more than that, depending on your branch of service, career field, unit, and other factors. Don't forget that you could be subjected to activation in the event of a national emergency, or a state emergency if you serve in the National Guard.
It's also pretty much a guarantee that you will miss some personal and family events, and you may miss out on some professional growth in your civilian career. In my four years of service in the Guard, I have missed birthdays, dance and music recitals, a Daddy-Daughter dance at the school, and several holidays. In some ways, it's like active duty, in that service must come first.
Finally, you may not have a unit close to your home. I used to drive 3 hours each way to get to my unit. However, I moved last year, and my unit is now 6 hours away. This makes for a very long weekend. There are other units closer to my home of residence, so I may look into changing units at some point.
Some notes about traveling for Reserve duty:
Many units also put their members up in hotels if they travel over a certain distance, which helps with travel expenses.
These downsides were enough to convince me not to join the Reserve Component. But eventually, the desire to serve again was enough to convince me to give it another shot. I'm glad I did.
Finding Civilian Employment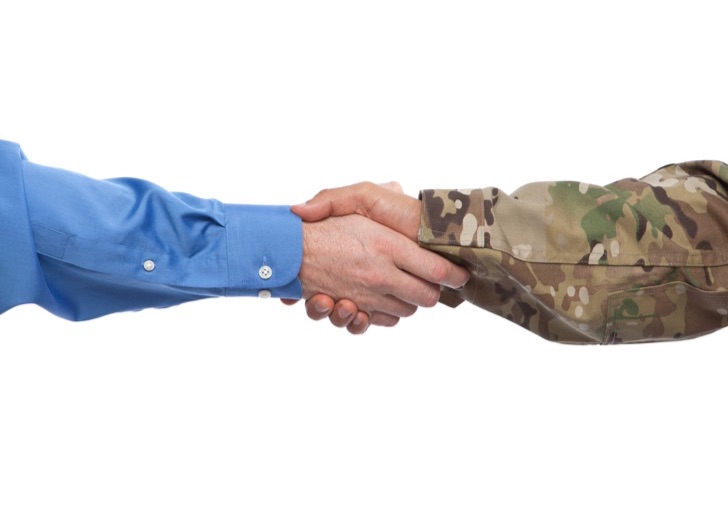 This could be one of the easiest parts of your transition or one of the most difficult. For me, it was one of the most difficult (here is my post-military employment history). I expected that to be the case, but I was still surprised at how difficult it felt at the time. I was an aircraft mechanic during my active duty service. However, I wanted to change career fields after my transition. So it took me a few months to find the right fit.
Eventually, over 6 months after leaving active duty, I found a job as a logistics analyst at Wright-Patterson AFB in Dayton, OH. This is the home of the Air Force Logistics Command, so it was a natural fit for my experience. I was able to use a lot of the knowledge and military terminology in my new job. The difference is that I wore a suit and tie instead of my BDUs.
Some people have a much easier career change, as their military career has a direct one-to-one equivalent in the civilian sector. But even being qualified doesn't mean you will immediately find a job. The marketplace is very competitive, and it may take time to find the right fit.
Most veterans will fall somewhere in the middle of my experience and finding immediate employment.
The following tips are a good starting point for your career transition.
This article is a good resource if you aren't sure what the next stage of your career will look like.
Military to Civilian Resume
Most military veterans have a strong skill set. However, it's important to convey your skills in a way that civilian employers will understand. That means writing your resume in a way that anyone can read it. You also need to convey your value to a potential employer.
Start by scrubbing acronyms and replacing them with civilian terms. Instead of "Squad Leader" or "Platoon Leader," try using "Team Leader" or "Middle Manager."
For example, my first Air Force Specialty Code (AFSC) was 2A676, Electrical-Environmental Systems Specialist.

That means absolutely nothing to anyone outside of the Air Force (heck, even most Airmen have no idea what that means!).

Instead, I should list my job as an Aircraft Mechanic and list some skills that come with the territory, such as mechanical skills, troubleshooting, shift leader, special duties held, etc.

More importantly, since I was trying to break into a new career field, I should write my resume as a Functional Resume, or Skills-Based Resume, not as a Chronological Resume, which simply lists my job and accomplishments in reverse chronological order.
This article covers more detail on how to translate your military skills into terms civilians will better understand. This is an essential part of finding a job in the civilian sector.
Finally, consider creating a unique resume tailored for each job application. An easy way to do this is to create a master resume that lists everything you have accomplished during your military career. Then pull from this source data for each job application. You can save each application with a keyword to help you differentiate which resume was used for which application.
Example: Resume_Guina_Logistics_Analyst_XYZ_Company.
Starting Your Job Search
You should start your job search before your separation from the military. However, most employers won't be able to hire you until you have officially separated from the military. It doesn't hurt to lay the groundwork and start the application and interviewing process.
Be sure to verify that there are no conflicts of interest with your applications and that you aren't in a position where being hired by a civilian company shortly after your military exit will raise eyebrows. If in doubt, check with your JAG office to ensure you won't be crossing any boundaries (this is most common for senior enlisted or senior officers but may also play a role for those who had a role in contracting, purchasing, or other career fields).
Finally, take advantage of hiring programs. Many large corporations have some variation of a "military green to corporate gray" program for recruiting former military members. There are also local, state, and federal programs to help veterans find civilian employment.
Veterans Preference Points
Your military service may entitle you to Veterans Preference Points, which may be awarded to certain veterans for their military service. Civilian agencies typically award Preference Points to veterans who served in named conflicts or those who have a VA service-connected disability rating.
Veterans Preference Points can give you a leg up in the hiring process for certain civil service jobs. In short, they give you additional points toward your application.
Some state and local agencies also have their own version of Veterans Preference Points. So be sure to look into this if you are seeking a job in the federal civil service, with a state or local agency, or even with some first responder organizations.
Buying Back Military Service Credits
Some of the above organizations also allow military veterans to buy back military service credits for their active duty time. These credits can be applied toward your civilian retirement.
This article covers buying military service credits for the federal civil service. Some state and local agencies also have their own versions. We can't cover them all in this site, so you will need to check with your state or local agency for more information.
After Separating from the Military
Your transition may be a whirlwind experience. Or it may go smoothly. Each veteran has a different experience. One thing I can tell you, however, is that your life is likely to be very different at first.
As I mentioned, I struggled with the transition. I wasn't emotionally prepared for it. I have discussed this with many veterans, and many had a similar experience. But it's not something that many people discuss openly – at least, not while you are going through it. It's usually only discussed after the fact.
I detailed my transition experience in this article & podcast.
My biggest recommendation – find something to be a part of. This could be a volunteer group, fitness club, men's or women's organization, religious organization, or something else. Look for a group of people with similar interests and experiences. Many people miss the military community when they leave the service. And while these organizations won't necessarily replace the military camaraderie, they can help make the transition easier.
Being part of something will help you in many ways, including growing your personal and professional network. It could even help you find a job. There are many benefits and few downsides.
Apply for VA Disability Benefits (if Applicable)
I encourage all military veterans to apply for VA service-connected disability rating if they have any injury or illness that occurred or was made worse during their time on active duty.
Again, applying for benefits is all upside, and no downside. Take a copy of your military medical records to a Veterans Service Organization and sit down with them to review your files. They will help you apply for benefits based on your records.
Even a 0% rating indicates a medical condition that occurred during military service. There may not be an immediate impact on your health today. But having it documented proves the connection to your service and will make it easier to get a disability rating should your condition worsen as you age.
A 10% rating or higher is enough to receive a monthly disability compensation payment for the rest of your life. You can also earn other benefits, such as access to VA medical care, having the funding fee waived on a VA Loan, and more.
Higher ratings may bring different benefits, including higher monthly compensation payments, access to medical care, concurrent receipt with military retirement pay, possible education benefits through the Vocational Rehabilitation Program, and much more.
Some states also offer benefits to veterans with a service-connected disability rating. Examples include education benefits for the veteran, or sometimes for their children. Some states even waive a portion or all of the veteran's property taxes, depending on the state and disability rating.
The following articles provide more information about VA disability ratings. Consider these links valuable research that can have a lasting impact on your future:
Take Control of Your Military Transition
No one cares as much about your transition as you do. You have to be the one in control. Whether you are involuntarily separated with no-notice, or you retire after serving 20+ years on active duty, it is your responsibility to take charge of your transition.
Moving back into civilian life will be a natural change for some, and a culture shock for others. Embrace it. This is your new life, and the sooner you accept that, the easier it will be to move forward. The same skills that helped you succeed in your military career will help you succeed in this next stage of life.
About Post Author