Restaurant chains throughout the country honor veterans and active duty military members each Veterans Day with special discounts. Some even offer free meals. Buffalo Wild Wings, which has more than 1,200 locations in the United States, will give free meals to veterans this year on Nov. 11, during their regular business hours.
The store's "Wings for Heroes" promotion welcomes all former and active duty military members for a free order of 10 boneless wings and fries. The offer is available for dine-in or takeout, with proof of service.
It's a more limited free menu than many other restaurants will have on Veterans Day, but if you're a fan of wings and fries and the chain's casual atmosphere, then this may be right up your alley.
Not all Buffalo Wild Wings locations will participate, and the promotion has other limitations which we'll get into below.
What You Need to Take with You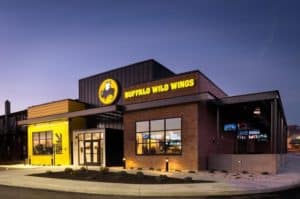 First, though, let's be sure you're able to prove your status as a veteran. In order to take advantage of the restaurant's Wings for Heroes promotion, you'll need to present a proper ID.
The restaurant's hosting staff will want to verify your veteran status by checking your ID and your proof of service. You can save time and frustration for yourself and the staff by being prepared.
You'll be fine if you have one of the following forms of proof:
A current Leave and Earnings Statement (LES).
A valid veterans organization membership card. (Think American Legion or Veterans of Foreign Wars.)
Your DD Form 214 – the certificate of release or discharge from active duty
A citation or commendation that you may have earned during years of service
A photograph of you in uniform
Your uniform, worn to the restaurant
If you have any doubts about what other proof is acceptable, you can contact the nearest Buffalo Wild Wings in the days leading up to Veterans Day. That way you won't waste time on the holiday itself.
More About the 2021 Veterans Day Deal
If you like wings, you probably already know about Buffalo Wild Wings. Also known as B-Dubs, the restaurant got its start in Columbus, Ohio, and now has its headquarters in Minnesota and locations around the world.
The chain's menu has expanded since its founding in 1982 to include salads, sandwiches, elaborate burgers and wraps, and a wide variety of sides.
Buffalo Wild Wings still has a specialty, though, and it's wings. The chain features traditional and boneless wings which you can dress up with 16 different sauces.
It's fitting, then, that the store offers its specialty — wings and fries — for free to veterans on Veterans Day.
Limitations You'll Want to Know About
This deal includes only the store's small size of traditional or boneless wings, which usually includes about nine wings and tends to cost in the neighborhood of $10.
Drinks are not included in the Veterans' Day deal, you will need to pay for any refreshments. You'll also want to bring money to tip your wait staff since the free meal does not include gratuity.
The deal does not allow substitutions or add-ons and people in your party who have not served will have to pay full price for their orders.
When Veterans Can Get Their Meal
Some restaurants and retailers may offer free or discounted offers on Veterans Day or sometimes the day before or after. Buffalo Wild Wings, however, extends its offer only on Nov. 11, Veterans Day itself.
Most of the store's locations open at 11 am and remain open late into the night, usually until midnight, even on Sundays. But before going out, especially if you're heading out late, check with your local store to be sure they're open.
You'll also want to make sure your location will be participating in the Veterans Day event. About half of the nation's Buffalo Wild Wings locations are locally owned and managed, and those stores have the right to opt-out of national events such as "Wings for Heroes."
Chances are your local store will be participating, but it never hurts to find out for sure since your time on Veterans Day is valuable.
To find a Buffalo Wild Wings near you check out the company's store locator feature here.
Why Eat at Buffalo Wild Wings on Veterans Day?
If you're already familiar with Buffalo Wild Wings you probably know whether you'd enjoy spending an hour or two at your local store on Veterans Day.
If you've never been, though, it can be harder to decide. In that case, it may be helpful to know a little more about the place before showing up.
Along with free wings and fries at Buffalo Wild Wings on Veterans Day, you can also expect:
A casual environment either at a table, in a booth, or at the bar.
Plenty of TVs to watch NFL games while you eat and hang out.
Table service from wait staff at most locations.
A full bar at most locations (subject to Sunday laws in some states and municipalities).
A wide variety of sauces to dress up your wings.
Parking lots available at most locations.
Enjoy Your Veterans Day Discounts
Every year more and more restaurants offer free food or discounts to active duty or retired military personnel on Veterans Day. It's a way these businesses can say thank you for the service and sacrifice military members take on when they enlist.
There are tons of military discounts out there, and not all are limited to Veterans Day.
Veterans Day promotions also provide a chance for restaurants to increase their future business by bringing more potential customers to the table. With so many places vying for veterans' attention on Veterans Day, it can be hard to decide where to spend your time.
If B-Dubs is a place you'd enjoy eating and spending time with your family or friends on Veterans Day, give it a shot.
If not, you'll find plenty of other offers available, whether you're looking for a restaurant with free or discounted meals, retail discounts, and even events and attractions.