If sports bars are your thing, consider visiting Buffalo Wild Wings on Veterans Day.
You can catch your favorite team playing on multiple large screens and enjoy famous B-Dubs wings and other bar food favorites like burgers, bird dawgs, wraps and tacos.
The sports bar-themed restaurant chain will treat current and former military members to free boneless wings and fries this Veterans Day.
To take advantage of the offer, visit one of Buffalo Wild Wings' 1,200 stores on Nov. 14, 2022.
The store's "Wings for Heroes" promotion welcomes all veterans and active-duty military members for a free order of 10 boneless wings and fries. The offer is available for dine-in only – unless you are at a "BWW Go" location, where you can order free wings and fries at the counter for takeout.
More About the 2022 Veterans Day Deal
If you like wings, you probably already know about Buffalo Wild Wings. Colloquially known as B-Dubs, the restaurant started in Columbus, Ohio, and now has its headquarters in Sandy Springs, Georgia.
It's fitting, then, that the store offers its specialty – wings and fries – for free to veterans on Veterans Day.
"Buffalo Wild Wings restaurants will offer 10 free boneless wings and fries for all veterans and active-duty service members (valid ID) to show appreciation for their service," Buffalo Wild Wings spokesperson Madison Kolofske said in an email. "Guests can enjoy any of Buffalo Wild Wings' 26 signature sauces and seasonings, from Honey BBQ, Spicy Garlic and Lemon Pepper to Parmesan Garlic and Mango Habanero."
Limitations You'll Want to Know About
This deal includes 10 boneless wings and fries during regular business hours on Friday, Nov. 11, 2022. The Buffalo Wild Wings Veterans Day deal does not include drinks or gratuity, so bring money for beverages and a tip.
The deal does not allow substitutions or add-ons. Non-military guests who accompany you must pay full price for their orders.
When Veterans Can Get Their Meal
Most of the store's locations open at 11 a.m. and remain open late into the night – usually until midnight – even on Sundays. Check with your local store to ensure they're open before you head out.
It's also a good idea to ask your local store if they're participating in the Veterans Day deal. About half of Buffalo Wild Wings stores are locally-owned and managed. Franchise owners set their own store policies, including discount policies and promotions like the "Wings for Heroes" deal.
What You Need to Take with You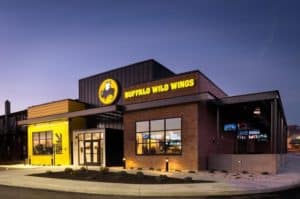 Bring some kind of service documentation to prove your military or veteran status.
Show restaurant staff one of the following forms of identification:
A current Leave and Earnings Statement (LES).
A membership card for a veterans organization like the American Legion or Veterans of Foreign Wars (VFW).
Discharge paperwork, such as a DD Form 214
A citation or commendation that you may have earned during years of service
A photograph of you in uniform (or wear your uniform, if your service allows)
Buffalo Wild Wings Locations
To find a Buffalo Wild Wings near you, check out the company's store locator feature here.
Why Eat at Buffalo Wild Wings on Veterans Day?
If you're already familiar with Buffalo Wild Wings, you probably know whether you'd enjoy spending an hour or two at your local store on Veterans Day. It may be harder to decide if you've never been. In that case, it may be helpful to know a little more about the place before showing up.
Along with free wings and fries at Buffalo Wild Wings on Veterans Day, you can also expect:
A casual environment, either at a table, in a booth, or at the bar.
Plenty of TVs to watch NFL games while you eat and hang out.
Table service from wait staff at most locations.
A full bar at most locations (subject to Sunday laws in some states and municipalities).
A wide variety of sauces to dress up your wings.
Parking lots are available at most locations.
Enjoy Your Veterans Day Discounts
Every year, restaurants offer free food or discounts to thank military members and veterans for their service and sacrifice.
If you're craving something besides winds and fries, you can find plenty of other free or discounted meals, retail discounts, events and attractions on The Military Wallet.
See More Military Discounts
About Post Author