Military children face many educational struggles due to frequent moves, service member deployments, and the variety of quality education options in their new locations. For many, home schooling provides an opportunity to close this learning gap.
Are you considering home schooling your child this year? Here are six steps you need to take to make the transition from a public or private school to a home school a smooth one.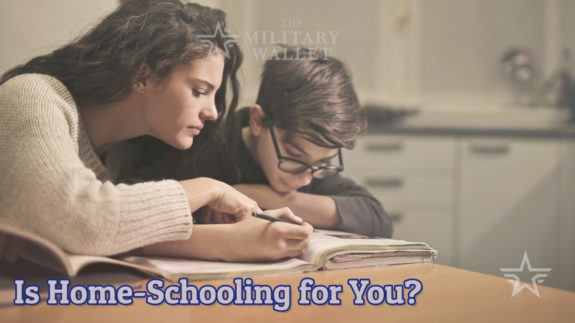 Is Home Schooling Right for Your Child?
On the surface, home schooling may seem like a logical solution to the complex educational issues faced by our military children. However, you need to consider the following before taking the leap:
Step 1: Research . . . Your Child
Will home-schooling work for your child? How does your child learn best? Do they retain information better visually or by listening to someone explain the subject matter to them? Do they learn best by doing? Do they need to have a quiet learning environment? Can they thrive in the midst of a chaotic house?
Special education advocate and 2019 AFI Navy Spouse of the Year Michelle Norman believes that the recent shift to home schooling during the COVID-19 pandemic has helped her get to know how her children learn best. "Parents, you're now seeing your child's strengths. You're now seeing your child's weaknesses," Norman said during a Blue Star family town hall. "What has worked, and what hasn't worked at home?" For many, COVID-19 has allowed them to see what they (and their children) are capable of to better inform their decision to home-school.
Step 2: Consider Time Management
Do you have time to dedicate to teaching your child (or children)?
Each student will potentially have different learning objectives and styles of learning that work best for them. If you work from home, taking on home schooling could prove challenging. While home schooling may be a smart choice during a non-deployable tour, it may be more challenging for a solo parent during a long deployment. If you are a working military spouse, you will need to determine how much time you can devote and factor that in when deciding on a curriculum.
If you are a working parent, do you have a flexible schedule? Do you have the ability to work remotely? If time is not a factor, then you can move on to the next, more complicated step.
Step 3: Research State Home-School Laws
The Education Act of 1996 requires that children five to 16 receive a full-time education. However, it does not require children to attend public school, opening the door for home-schooling families. Because the public education system is funded by local and state governments, laws that govern home schooling vary by location. It is important for you to do your research to see if your plans align with state requirements.
School Liaison Officers
School liaison officers are great resources and can provide you with information about state and local laws. They can be an asset in making your decision to home school.
Legal Topics to Consider
Home School Legal Defense Association (HSLDA), a home-school advocacy organization, has created an easy to use home-school laws by state tool. In reviewing this tool, you can discover how many different home-schooling options there are. Options include traditional home school, religious/private school, private school satellite programs or a private tutor.
You will also learn if you need to officially notify your school district of your intent to home-school. One reason for this is that schools receive state funding for each enrolled student, and military students bring in federal funding called impact aid. Because this funding will not go to your local school if you are home schooling, in some states, such as California, you are eligible to receive support and/or funding that you can use toward purchasing your home-school curriculum.
Some states require that parents meet teacher qualifications. These requirements are open-ended in states like California, but can be as high as college credits to home school in Washington. However, most require a GED or high school diploma.
Other state requirements to consider:
State-mandated subjects: You cannot always teach exactly what you'd like

—

some states have specific curriculum requirements.
Required assessments: Some states allow your child to take standardized tests, or you can submit written assessments.
Immunization requirements: Although your child is not attending public school, some states, like Virginia, require immunizations in order to home-school.
If you are stationed OCONUS, you are eligible to home-school, as DoDEA schools do not have mandatory attendance policies.
Step 4: Choose a Curriculum
There is an abundance of options out there. You will need to consider the following:
Is it teacher-led or independent?
Does it fit your teaching style and your student's learning style?
What can you afford?
Worried that your curriculum will leave your child without a connection to his/her peers? That is where auxiliary and extracurricular activities come in. Many local home-schooling communities and co-ops organize activities for children.
If you live near a DoDEA school, your child is eligible to use these services. You will need to consider the requirements to access them, but they are at your disposal. DoDEA has a helpful DoDEA home school FAQ page that gives more detail.
Step 5: Set a Home-Schooling Budget
Not all states provide resources to help defray home-school costs, so budgeting is vital. There are many free or inexpensive curriculum options. However, there are other expenses to consider, such as textbooks, school supplies and membership fees should you choose to participate in a home-schooling co-op. HSLDA estimates costs can range from $50 per student when you take advantage of free resources (like the MWR digital library), up to $500 per student to cover extras like private tutors.
Step 6: Get Connected to a Home-Schooling Community
There are Facebook groups for military home-schoolers and local groups. Military Homeschoolers has over 4,000 members and is a good place to start. Although these communities are not officially endorsed by any government agency, the communal knowledge and potential for helpful advice is unsurpassed and should not be discounted.
Military OneSource recommends reaching out to your local installation to obtain home-schooling resources. Military OneSource also provides education consultants if you have any additional questions that cannot be answered by your local community. You can call 800-342-9647 to schedule an appointment, and OCONUS/international families can find contact info here.
Last, choosing to home-school does not forfeit your right to a public education. If you end up changing your mind and want to re-enroll in public school, you can.
About Post Author